According to data compiled by the Turkish Statistical Institute (TUIK), imports of billet and bloom increased by 6.15% from 264,882 tons in June to 281,174 tons in July. While the import rate of Russia, which ranked first in the import ranking, decreased by 40.87%, record increases were recorded in Italy. Italy's billet and bloom imports increased by 11434.00% to 10,258 tons in July, up from 89 tons in June.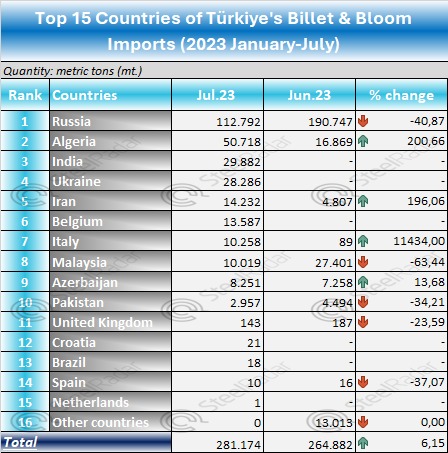 On the other hand, exports of billet and bloom were also on the rise. The export figures of the top 10 exporting countries increased, with exports reaching 657 tons in July, increasing by 22.80% from 535 tons in June. Germany was the largest exporter of billet and bulum to Turkey, with exports increasing by 166.97% to 291 tons in July compared to the previous month.
The country with the highest decrease in exports was Bulgaria. The export volume, which was 157 tons in June, decreased by 12.10% to 138 tons in July.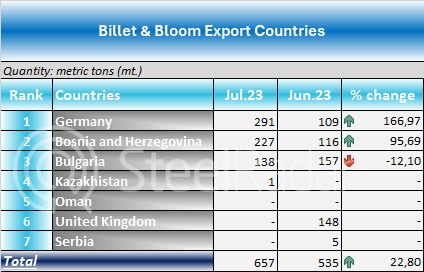 65.50% increase in 7 months
In January-July 2023, billet and bloom imports increased by 65.50% to 2,236 tons from 1,351 tons in January-July 2022. Moreover, imports increased by 38.07% from 174 tons in July 2022 to 281 tons in the same month of this year. Imports increased by 5.69% in one month, compared to 265 tons in the previous month.
These significant changes in Türkiye's billet and bloom trade are closely monitored in the fields of economy and industry.